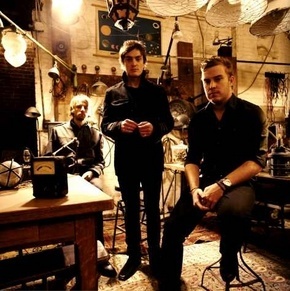 Civil Twilight es una banda de rock alternativo, formada en el 96 y originaria de Cape Town, Sudafrica.
Han sido contratados por la firma indie Wind-up Records, con la cual han lanzado su disco "Civil Twilight", que es un relanzamiento de su primer trabajo que fue publicado en forma independiente llamado "Human"
Esta banda ha sido conocida debido a las frecuentes apariciones de sus canciones en distintas series del Prime Time de USA.
-"Human" en "House MD"
-"Letters From The Sky" en "Terminator: The Sarah Connor Chronicles" y Harper's Island
-"Quiet In My Town" en "One Tree Hill"
La banda tambien ha abierto conciertos para Three days grace y Evanescence.
Son conocidos y comparados generalmente con la banda U2 debido a la similitud en la voz de Steven con la de Bono.
Integrantes: Steven McKellar (bajo, voz y teclados), Andrew McKellar (guitarras),
Richard Wouters (bateria).
Discografia: Civil Twilight (2009).
Canciones que recomiendo: Letters from the sky, Left out, Soldier, Teardrop, Something she said, What you want.
Mira su video:
Letters from the sky
o Something she said.